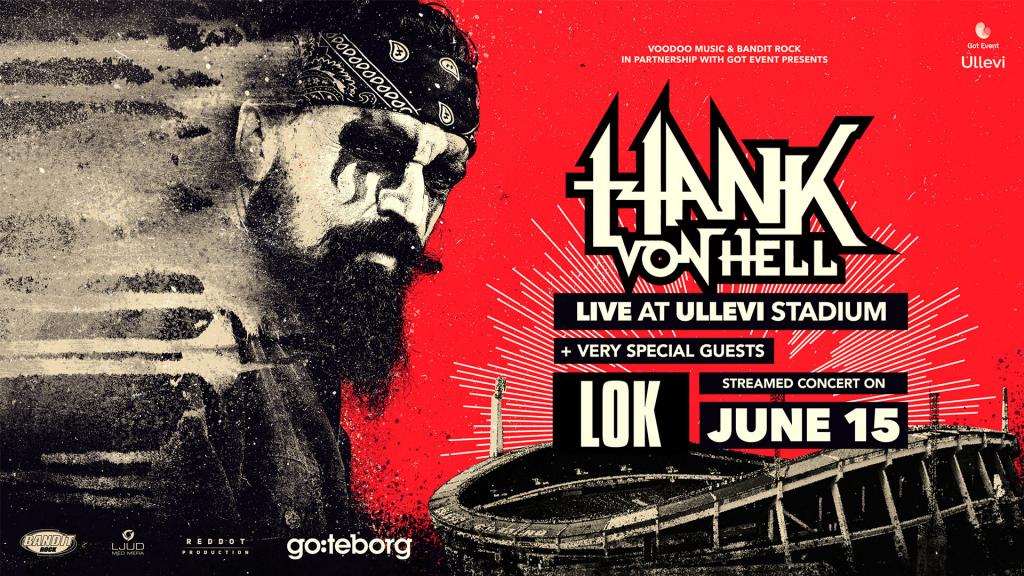 HANK VON HELL – LIVE FROM ULLEVI STADIUM – One of the biggest Live Streams to date
15 Jun 2020 15:00 - 15 Jun 2020 16:30
Replay
722
17 USD
The legendary rock icon Hank von Hell (+Special Guests LOK) will stream a live concert from Ullevi Stadium in Gothenburg, Sweden, on June 15th, 2020 at:
9pm CEST / 3pm ET / 8pm BST / 12pm PDT
Hank von Hell will perform a full set, with full production during the show. On the same day, Hank von Hell will also release his new studio album "Dead" (Columbia Records/Sony Music Entertainment) The world renown Ullevi Stadium usually has capacity of 75.000 people, and holds concerts such as Rammstein, AC/DC, Bruce Springsteen and many more.
This show will be unique as this is one of the BIGGEST concerts venues used during the Covid-19 pandemic to be streamed from.
Hank von Hell became famous back in the early 90's, fronting one of the most influential and important rock bands from Scandinavia ever, Turbonegro. He quickly became an icon within the scene of Rock, and for over 25 years he's been considered one of the most prominent frontmen of Scandinavian rock n roll.
He's very first solo album "Egomania" was a great success, and the upcoming album "Dead" (released via Columbia Records/Sony Music Entertainment) features songwriters and producers such as Cone McCaslin & Dave Baksh (Sum 41) and also Grammy awarded producer Tom Dalgety (Ghost, Rammstein, Pixies, Royal Blood and more).
New album "Dead" – Release date June 15th, 2020.
LOK (Swedish for Locomotive)
A 4-piece band from the metal town of Gothenburg. They burned bright for a short time around the millenium and forced their way into the swedish corporate record business with their cross over mix of metal, hardcore and stoner elements, all in the Swedish language.
Their high energy live shows took them to some of the biggest stages in Scandinavia and the band got equal shares of both love and hate from the metal community. LOK was the kind of band that everybody had something to say something about, either it was good or bad. If the band got feelings rollin in the public domain, it was no differrence internally. The band split up 2002 after three full length albums and were of the map for seventeen years when they suddenly januari 2019 announced what few thought ever would be possible, even themselves.
LOK did 10 shows at selected festivals and sold out venues in Sweden, leaving the audience loudly wishing that the reunion will remain. And later that year the band confessed that 2019 had been TOO much fun. They had decided to continuing carrying on putting out
their swedish slegdehammering grooves.

Due to C19 regulations LOK has only done one streaming gig since their comeback tour but here they are again, opening for big boss Hank at the biggest venue in their hometown. ULLEVI Arena, where LOK actually supported the Australian Young Brothers on their 2001 Stiff Upper Lip-tour.

This event will be totally different of course without all the lovely people, but LOK are there to show what they're about, and force that into those lenses all the way into your living rooms.
https://www.facebook.com/lokpest/

Don't you miss it!